Zinc is essential
Zinc is literally "essential" in the sense that your body does not produce it but requires it for the maintenance of good health. It boosts your immune system, helps to maintain healthy blood sugar levels, keeps your thyroid functioning as it should, helps with reproductive health, wound healing, growth, taste, vision, and smell just to name a few benefits. A lot of big jobs for one unassuming mineral to take on!
Formulated to meet your health needs
You can trust CanPrev's zinc formulas to deliver elemental zinc in the preferred bis-glycinate form for superior absorption. Carefully crafted with your health needs in mind. Find the zinc that's right for you.
Tune in with Holistic Nutritionist, Samantha Cohen, as she breaks down the importance of zinc, signs of a zinc deficiency, and foods rich in zinc.
Common questions about zinc
Download this FREE zinc FAQ
Zinc is a mighty trace mineral that performs many jobs. Here are a few frequently asked questions and answers found in this free guide:
Are you susceptible to a deficiency in zinc?
I'm trying to conceive, will zinc help me?
How much zinc should I take?
What are zinc's friends and zinc's rivals?
and more...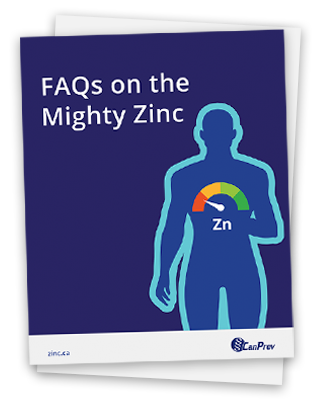 Have a question for us?
We'd love to hear from you